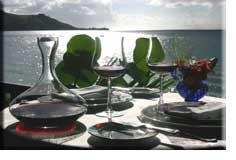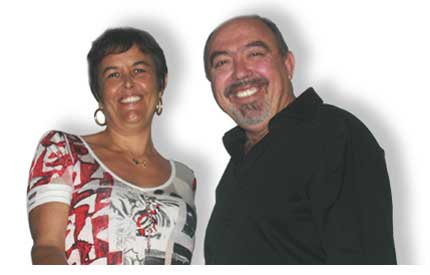 Situated in the heart of Grand Case in one of the oldest houses in the village, LE TASTEVIN will charm you with the attention its owners, Christine and Jose MANRIQUE, have given to each detail of the decoration as well as to the extraordinary cuisine. Begin your evening with a refreshing cocktail while enjoying one of the most spectacular sunsets in the Caribbean on the garden terrace built around the venerable coconut trees and overlooking the magnificent Grand Case bay.
The dining area is decorated with colorful Caribbean charm, the tables are well spaced for your comfort and intimacy, the cuisine is imaginative while blending traditional French cuisine with the flavors of the islands, and presented with attentive, though discreet, service. Thousands of faithful clients who have visited us over the past twenty years return year after year, and if you visit us, you will probably return again to share our passion for hospitality and good taste.
In 1984, Martine et Daniel PASSERI, from L'Auberge Gourmande, just across the street, bought this property. It had many old trees and lovely gardens surrounding a beautiful terrace. On 13 December, LE TASTEVIN opened its doors to its first clients. In 1988, Christine et José MANRIQUE, took over the property and by 1993 had transformed it into one of the loveliest restaurants in Grand Case. In 1995, Hurricane Luis destroyed the terrace and in 1999 Hurricane Lenny required a complete reconstruction of the waterfront setting. Today, thanks to the efforts of its owners, it is as beautiful as ever with the same beautiful views across its gardens to Grand Case Bay and Anguilla.

Patrick GUILLERM
Patrick GUILLERM, though born in Brest, France, trained in Lausanne, Switzerland, and having worked for the Pourcel brothers in Montpellier, has chosen to exercize his talents in the New World. We are happy to have him here at LE TASTEVIN where he adds new flavors to typical French dishes. He is imaginative without excess, modern and international without forgetting the grand French traditions. He will provide a interesting and easy to approach introduction to French cuisine for first time visitors, while still piquing the interest of gourmets.
Patrick is ably assisted by Junior, Jean-Pierre, Mimi, and Bertha in the kitchen. Arnaud and Julien will serve you in the dining room.

LE TASTEVIN: a true institution; a guarantee of tradition, enthusiasm, and innovation.